DXD Ag Insights helps agronomists on every step of the transformation of on-the-ground observations and expertise into the information and insights that customers value. Read on to learn more about how we think about this process.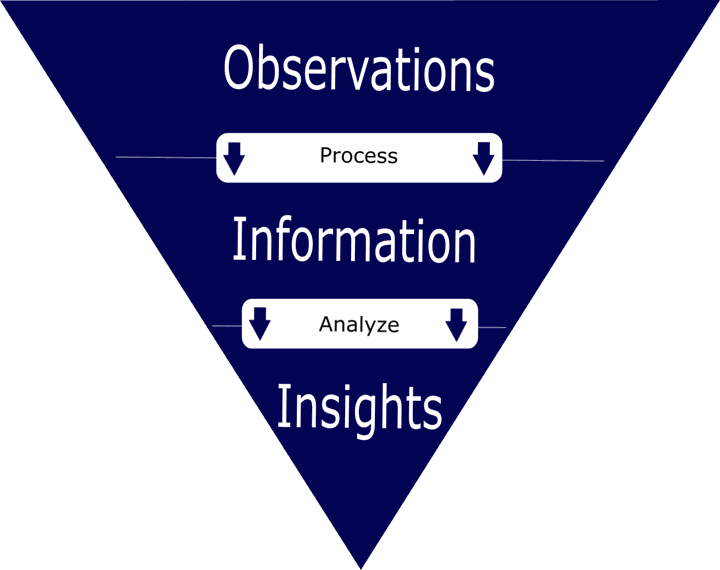 Observations
Observations are facts about a field. For agronomists, observations include things like planting details, stand counts, growth stages, pest pressures, and even simple notes.
However, agronomists aren't hired to collect data but are sought after for the INFORMATION and INSIGHTS gleaned from the data.
Information
Information is a set of observations that are processed, filtered, and organized for a purpose.
For an agronomist, a simple example of information is the weekly reports for growers. It's often not reasonable to include everything- you filter the observations for what the grower needs to know or distill the information into a recommendation report with an action plan.
Taking information to the next level would include supplementing your observations with additional data, such as local weather or equipment data. Additionally, depending on what you need to communicate, dashboards or reports tailored to your needs can be helpful.
Insights
Finally, insights are obtained when you cut through the noise to truly understand what is going on. 
For agronomists, insights include improvements to your business and operations, adjusting decision rules for recommendations, or changing field management practices. Each field becomes a real-world research plot to enable continuous improvement and learning.
One example of an agronomic insight is confronting misconceptions about the cause of performance issues. When a majority of the fields planted in a variety had low yields, it's easy to conclude that the variety is at fault. However, a detailed review of the data, soil characteristics, and other data could conclude that these fields were more likely to have environmental factors related to a disease. Or perhaps low yield in a field was actually due to overlooked unfavorable weather at a certain point in the season.
Our Services
We can help you:
Efficiently collect relevant observations in a form that requires minimal processing.
Identify opportunities to organize your data into useful information.
Automate the processing of observations and generating information.
Implement tools to help you examine your observations and information across fields and seasons to generate insight.
Get in touch, and we will be glad to spend some time with you free of charge to help you get started.
To receive these posts in your email, subscribe below: